US Product Page Link :
https://www.motionrc.com/products/fr...mm-edf-jet-pnp
EU Product Page Link:
https://www.motionrc.eu/products/fre...mm-edf-jet-pnp
Watch the PJ50 fly here: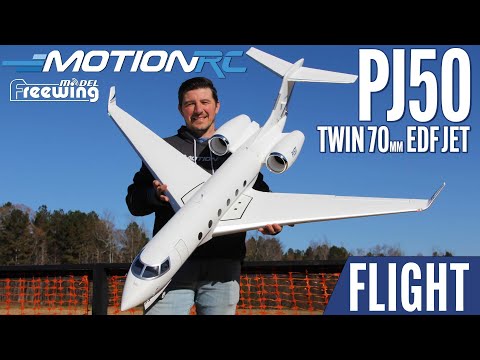 Pre-Order / Reservation Details - Please read this information carefully before ordering:
This is the pre-order for the Freewing PJ50 Private Jet Twin 70mm EDF Jet - PNP. The current expected arrival date is Mid March 2022. Any changes to the ETA will be posted on this page.
This is an EXTREMELY popular product, so we STRONGLY recommend pre-ordering if you wish to receive a unit from the first shipment.
In order to hold your Freewing PJ50 Private Jet, your credit card or PayPal account will be billed at the time your pre-order is placed.
Please DO NOT order spare parts with your pre-order unless you are willing to wait for them to ship with the plane. We do not ship spare parts separately before pre-order items.
After years of anticipation, Motion RC and Freewing are proud to announce our first business jet, the PJ50! Evolving in the footsteps of our wildly popular AL37 Airliner, the PJ50 is the next generation of civilian transporter plane that is sure to turn heads and drop jaws at your RC flying field. The Freewing PJ50 sports all the modern design elements that a discerning RC pilot wants in a high performance, feature rich, and uniquely standout aircraft. Now boarding: Your personal jet!
Elegance Extreme

Symbols of opulence and style, Freewing's PJ50 references the personal jet travel habits of the business elite. Sleek, stark, and sharp in all the right planes, the PJ50 brings into RC hangars around the world something new to fly alongside Freewing's long line of RC military jets and warbirds.
First in Class

The PJ50 is the first Freewing model that is inspired by the civil sector of corporate jets. With a 67" wingspan, the Freewing PJ50 impresses both in the air and on the runway. Its sleek profile provides for that "big airplane" feel in the sky, while its slender fuselage and removable wings keep it easy to transport in a standard sedan.
Chromed Details

Chromed plastic inlets add extra bling to the aircraft while also protecting the nacelle. The PJ50 features 12 bladed Electric Ducted Fan units for increased thrust and the pleasing "whoosh" sound that RC jet pilots love.
6S Inrunner Motors

The ultimate in efficient power delivery, Freewing's popular Inrunner motors drive the 12 bladed EDF. This power system is used in many Freewing jets and is well regarded for its output power per pound. With sensible throttle management, the PJ50 features a potential flight time of 4-8 minutes.
Grass-Friendly

A "double-bogey" or two wheel setup is mounted on a CNC aluminum OLEO suspension strut to absorb the occasional rough landing. The narrow profile of the undercarriage is intended to cut through short grass fields, although pavement provides the best taxiing experience for a business jet in this class. A dual nose door fully encloses the nose gear during flight to provide optimal aerodynamic efficiency.
Suspension Struts

"Trailing Link" suspension struts on the main landing gear are paired with double-bogey wheels to give extra stability when operating on rougher surfaces. A bolt-on door conceals the strut during flight. The PJ50 uses common wheel sizes with several other Freewing jets and is configurable for other wheel materials if the pilot chooses to experiment.
Triple Landing Lights

The PJ50 boasts three white LED landing lights, two mounted on the wing roots and one mounted on the nose strut. These three landing lights are automatically synchronized to turn on when the landing gear are deployed, and to turn off when the landing gear are retracted.
LEDs Everywhere

Eleven LEDs are pre-installed throughout the aircraft, making the PJ50 one of the most illuminated aircraft at Motion RC. These LEDs are all driven by a central unit which handles how and when each LED behaves. Some blink, some flash, some remain on, and some are synchronized with the landing gear. Additional programming or configuration is not required.
Efficient Power System

Having designed EDF jets for over 15 years, Freewing's power systems continue to define the ultimate in sensible performance and value in PNP ("Plug and Play") RC jets. The PJ50's twin 70mm 12 blade Inrunner motor system is fed by a single 6s 25.5V 5000mAh LiPo battery. This common battery is required for many RC models and is already owned by many RC pilots, lowering the average cost of ownership for any one aircraft.
Now Boarding

Developed for both the novice and expert RC jet pilot alike, the Freewing PJ50 delivers an ownership experience without parallel. Fly the skies with style and bring a different touch of class to your hangar today!
Features:
Now includes two 2952-2100Kv inrunner motors and 12-blade fans for added power and efficiency
Beautiful, scale outline both static and in the skies
~1/16 scale, yet lightweight with docile flying characteristics
Attractive, business jet-standard blue decals
Nacelles easily removed with 4 screws
11 LED light system throughout the airframe
4 screw wing assembly makes for easier transport
Removable winglets with MWS slotting system
Scale aluminum suspension struts
Scale flap system
Includes:
Freewing PJ50 Private Jet Twin 70mm EDF Jet - PNP
2x 2952-2100Kv Inrunner Brushless Motors (installed)
2x 70mm 12-Blade EDFs (installed)
2x 60A ESCs with 8A UBEC (installed)
6x 9g Digital Hybrid Gear Servos (installed)
2x 9g Digital Metal Gear Servos (installed)
Electric Retractable Landing Gear (installed)
11x LED Lights (installed)
Requires: