Over ten years ago, Freewing began developing their first American 90mm EDF, the F/A-18E Super Hornet. Made of EPS foam and sporting a plastic five blade fan, that model was one of the first 90mm PNPs to demonstrate Freewing's dreams, and it set the stage for their evolution. Having partnered with us at Motion RC for the past seven years, we've all been humbly privileged to expand the Foam EDF Jet's place in the RC hobby and earn the business of customers worldwide. Thank you for your continued feedback, excitement, and trust!
To celebrate Freewing's Eleventh anniversary, we are proud to announce an all-new 90mm F/A-18C Hornet, complete with all the latest features common to modern era EDFs in our Super Scale series. Based on some customer feedback requesting more "heads up" about upcoming products, we're deviating from our normal preference to announce a model after it is produced and shipped, and instead giving you a peek while it is currently in mass production as of March 2019. Save a summer slot for the Freewing F-18 Hornet!
Here's a brief overview, or just skip to the video links below of our boys tearing up the skies in Georgia:
* New design from the ground-up
* F/A-18C "Legacy", the world's first -C 90mm PNP
* 90mm 9B EDF
* 6s 5000-6000mAh lipo
* 4-5+ minutes of managed flight time (see our video)
* EPO foam, not EPS
* Completely screw-together assembly without any glue
* Scale outline, including open vents between the fuselage and intakes, and downward angled wingtip rails
* Completely concealed elevator servos and elevator control hardware for less drag and better looks
* Full coverage plastic undercarriage doors
* Aluminum suspension undercarriage
* Trailing link struts
* Low-vis rudder servo placement
* Low-vis flap servo placement and geometry
* All-new plastic Fowler flap arm hinges to mimic those on the real F-18
* Removable plastic tipped magnetic nose cone
* Removable wings with QD wing harness
* LED lighting on nose strut, chines, and dorsal
* Large battery bay for battery, MFCB, and gyro
* Sharp and shallow panel lines in sensible areas without reducing overall scale effect
* Pre-molded wing station to accept Freewing's MWS plastic slot system (aftermarket pylons, ordnance, 3DP, Runcam, etc)
* Quick Service servo plates on the wings and vertical stabilizers (screws, not glue).
* Plastic lined coaming to resist bubbling under the canopy
* Plastic tipped nosecone
* Plastic capped intake lips
* Plastic capped wingtip rails with pre-installed MWS slot
* Plastic nozzles with two-tone metallic paint job
* Blue Angels livery with factory-installed primary markings and un-installed tail number/BuNos
* Pilot's helmet will be painted yellow in final production!
Bonus round: For anyone inclined to install a smaller 80mm EDF, perhaps on 8s for higher speed or 6s 4000 for slower speed and lower operating cost/weight, the 90mm PNP's box also includes two foam inserts to facilitate installing an 80mm EDF. We've flown our Hornet on 80mm 6s 4000, 80mm 8s 4000, 90mm 6s 4000/5000/5100/6000, and even 90mm 8s 4000. In addition to the 90mm 6s PNP, we'll also have an ARF PLUS available.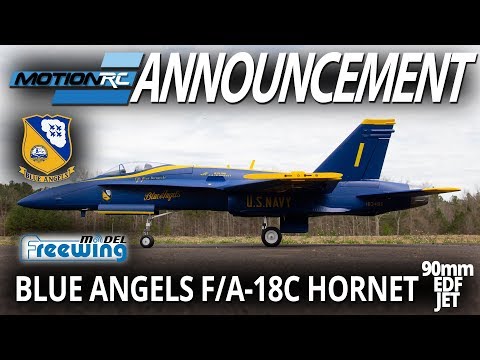 Subscribe to this thread and our YouTube channel for notifications when the product pages are put online and the pre-order is opened. Pricing and ETA to follow. For now, enjoy the photos and videos, and fire away.
GO NAVY
More pictures attached below