Motion RC is excited to announce the new Freewing T-33 Shooting Star in 1/9.5 scale. Honoring the popular T-33 that flew with over 40 countries between 1948 and 2017, the Freewing T-33 faithfully represents this amazing aircraft!

Constructed from EPO foam, carbon, wood, aluminum, and other materials, the Freewing T-33 is powered by an 80mm EDF power system optimized for performance and easy flying behavior. Its wide 1350mm (53") wingspan offers a light wing loading that allows for very stable flight and a mild gentle stall. Scale split flaps and robust aluminum trailing link suspension landing gear makes taking off from and landing on grass runways an easy operation. Removable tip tanks, an accurate overall outline, and landing gear doors enhance the scale fidelity of this model aircraft. With a quick and easy screw together assembly that is convenient for pilots wanting to get in the air quickly.

The Freewing T-33's power system provides performance that is similar to other recent 80mm Freewing jets such as the popular Avanti S and L-39 Albatros but is now powered by a 1920kv Inrunner! The 100A ESC provided ample headroom for high power use and the 9 blade EDF provides a proven efficiency that thousands of Freewing jets have had worldwide. Rapid acceleration, low cruising altitude position, and efficient energy consumption are key features of the Freewing T-33. Although it's wingspan is greater than more expensive 90mm jets, the T-33 is affordable to operate and makes a perfect EDF trainer jet for new jet pilots moving up from smaller 64mm and 70mm jets.
PRE-ORDERS ARE OPEN NOW
Both versions will be available in the US mid-January (2 weeks about) and a late January arrival for the EU (3 weeks about)
USAF US PNP:
https://www.motionrc.com/collections...mm-edf-jet-pnp
German US PNP:
https://www.motionrc.com/collections...mm-edf-jet-pnp
USAF EU PNP:
https://www.motionrc.eu/collections/...mm-edf-jet-pnp
German EU PNP:
https://www.motionrc.eu/collections/...mm-edf-jet-pnp
2 Liveries will be available!
The USAF 57th Fighter Interceptor Squadron "Black Knights" & the German Luftwaffe 9455
VIDEOS:
Flights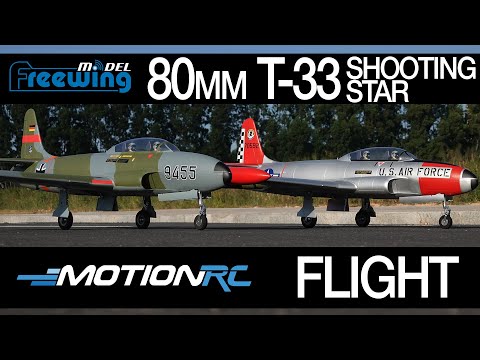 Unboxing and Assembly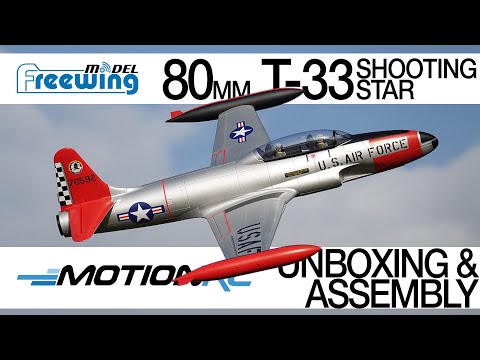 Specifications
Wingspan: 1350mm/53"
Length: 1200mm/47"
Motor: 3658-1920KV Inrunner
EDF: 80mm 9-Blade Fan
ESC: 100A w/ 5A BEC
Foam: EPO
Landing Gear: Aluminum Trailing Link Suspension
Recommended LiPo: 4000mAh - 6000mAh
More Information coming very soon! But here are some more pictures while you wait:
Ample Canopy and Battery Space


The T-33 has plenty of space in the battery compartment for all any battery you need, plus added accessories if desired.
Clean Fit Landing Gear Doors


The landing gear doors have a nice, tight and clean fit for that ultra scale look pilots covet.
Scale Split Flaps


The scale split flaps are another nice feature adding to the realism of the model.
Molded Plastic On Intakes


Plastic intakes not only create a clean look but are functional in protecting the leading edge of the intakes from damage.
Robust Main Gears


The gears are a robust metal spring-loaded for both pavement and grass.
Inrunner Motor Preinstalled


A highly efficient inrunner brushless motor is pre-installed, providing a top speed in excess of 100mph!
CG Mark Pre-Molded


The CG mark has been pre-molded into the model for your convenience.
Servo Covers Throughout


For a nice clean look on all servos
Nylon Hinges Throughout


Nylon hinges throughout the model for durability.
Removable Tip Tanks


The tip tanks are easily removable for transport.
Requires: